About Roey Pentagram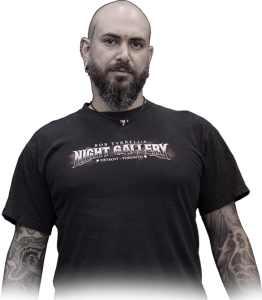 Roey Pentagram was born in 1976, and started drawing about two years later, as soon as he learnt how to hold a pen in his hand. As a young artist Roey was influenced by a variety of genres and styles: starting with Renaissance painters such as Leonardo Da-Vinci and Michelangelo, more recent painters such as Salvador Dali and H.R. Giger, to fantasy painters and Heavy-Metal album covers.
Roey's professional career started in high-school as a painter in a T-shirts print shop, and then as a mural painter.
Even as a teenager, the world of tattooing attracted him tremendously, and after getting his first tattoo, during his military service, he decided to learn the subject more profoundly. The time was mid 90s, before the internet era, and most of the theoretic information about this magical world – Roey got from magazines or from the man he used to get tattooed by, David Mosko, Israel's first tattoo artist, who was full of stories about tattoos and tattooers from every corner of the globe.
The tattooing profession was rare and esoteric in Israel those days, and when Mosko, like the other few artists that were around, refused to teach him how to tattoo – he learnt Body-Piercing and began working at Mosko's studio as a piercer, hoping that he would be able to pick up the craft by observing, but very soon he realized it's not possible.
In the end of 1997, he was offered by the tattoo artist David Moreno, who knew his drawing skills, to start an apprenticeship and to work as a secondary tattoo artist at his studio. Since David was the senior artist in the studio, and used to do most of the big and complicated tattoos, the ones who took longest – Roey's job was to do most of the tattoos at the studio, which helped him progress very quickly.
On June 6th 2000, Roey Pentagram opened up a studio with David Moreno as a partnership, at the New Central-Bus-Station of Tel-Aviv. Because of his strong attraction to Black magic and the occult, and because of his love for Heavy-Metal music, and the art life that he lived – he decided to call the new studio "Pentagram Tattoo". Pentagram is the five points star used as protection against evil powers in black magic ceremonies, is identified with Metal music, and is attributed to Venus, the goddess of beauty and art in mythology.
In time, the name "Pentagram" became more and more synonyms with his name, that eventually, he officially changed his name to Roey Pentagram.
After two years of the studio's activity, Roey and David stayed partners for six more years in yet another studio, until they finally went their separate ways. Roey then opened up his own studio at Dizengoff st. in Tel-Aviv, where it is presently located.
In 2003 Roey attended a tattoo convention in England, where he enrolled one of his works in the competition, a portrait of Ozzy Osbourne, and won first place out of dozens of other competitors. After winning, a long article about him was published in the known tattoo magazine "Skin Deep" and that gave him greater exposure abroad.
Roey visits and works as a guest artist at tattoo conventions and studios all over the world. Upcoming events and current travel schedule can be found on the "On the Road" page of the website.
Roey professionally does all styles of tattoos, and specializes in realistic and surreal black and gray works. To retain uniqueness – he likes to design the tattoos himself, but always enjoys tattooing from a nice picture as a reference. He learns and is influenced by many artists, such as Paul Booth, Bob Tyrrell, Guy Aitchison, Victor Portugal, and many more. Roey also influences a new generation of tattoo artists in Israel and abroad.
In his free time Roey draws and paints as much as possible; in oil, acrylic, pencil or digital pen. You can also find him reading thrillers, watching movies, or playing the bass guitar.